Donít you hate it when the OP asks a question then drops off and never gives feedback?
I appreciate everyoneís suggestions, and my wife and I did have a great time this summer. I have never really been off of the east coast, so our summer turned into a 3 month road trip taking a southern route out west and then taking a faster northern route home. This was probably not the most efficient way to move from Chapel Hill, NC to Boston, but it was a lot of fun.
Since my question was about longish hikes I will stick to those in my follow up even though Yellowstone was a lot of fun too.
Our first major stop was the Petrified Forest national park. Even though this was one of the shortest of our overnight hikes it is worth noting that for just a few dollars you can camp in the park. You have to get at least a half mile or so from the roads to camp, but it was amazing. This is one of the few times I have ever been camping where I know that my wife and I were the only people for miles around. The desert was silent, and almost too quiet sometimes. If you want to have a wilderness experience with no trails or people you should take a look.
One of the biggest surprises of the trip was the Keet Seel ruins in Navajo National Monument. This National Monument has free car camping, and the oldest and best preserved ruins in the US. Everyone who goes gets to walk through the ruins, and gets a private tour. The catch is that its about 8 miles out, and most people would rather stick to things they can see from the car. The hike out was flat with several stream crossings (nothing over 3 inches), and as you near the ruins you go around a bend in the canyon and this beautiful cliff dwelling comes into view. You then just walk up to the ranger hut at the entrance, knock on the door, and get a tour. You have to climb a long ladder to get in, but the ruins are amazing. You are just walking around on broken pottery that is a thousand years old, and everything is well preserved. There are even corn cobs still there from when the site was abandoned 800 years ago. The hike out was a little harder since you have to get back out of the canyon, but it was well worth it, and this little known site was great. Even most park rangers have never heard of this one.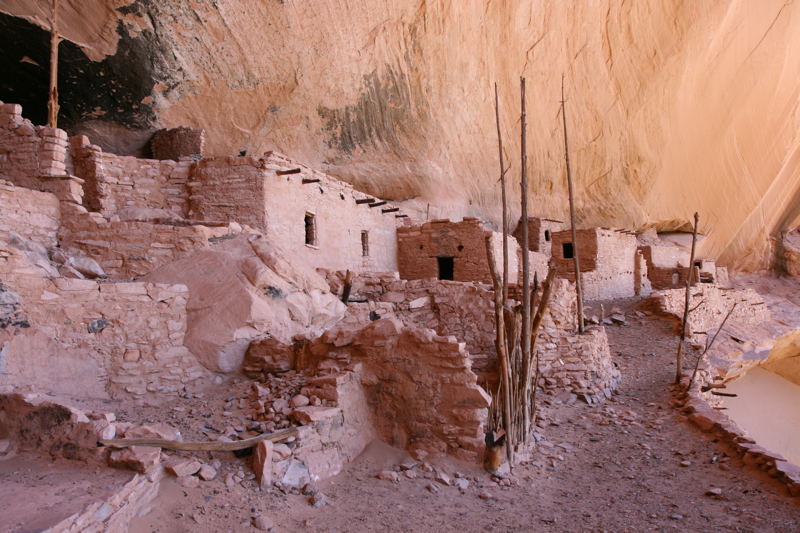 I wasnít too impressed with Arches, but Canyonlands, especially the Needles District was great. We hiked from Elephant hill to Druid Arch and finished the loop out by Devilís Kitchen. The hike was awesome with varied terrain. Sections of the trail cut through narrow canyons to the point where my pack almost didnít fit even after I took it off. A lot of the hike is following cairns over big sections of rock. We camped at Chesler Park which is a meadow I didnít really expect to see. The whole hike made me feel like I was in a scene from the Flintstones. The only part I would say isnít worth your time is the Druid Arch. I was disappointed, and it added a few miles to the hike. Overall this was my favorite part of Arizona and we were in the state for about 3 weeks.
In the rocky mountains we only went on one hike up to Lawn Lake. It was a good hike, and the campground was about 8 miles out, but the terrain wasnít too bad. The views of Lawn Lake, the Crystal Lakes (which were still frozen) and the summit were worth the hike. The picture is of one of the first marmots we saw this summer as we are looking back at Lawn Lake.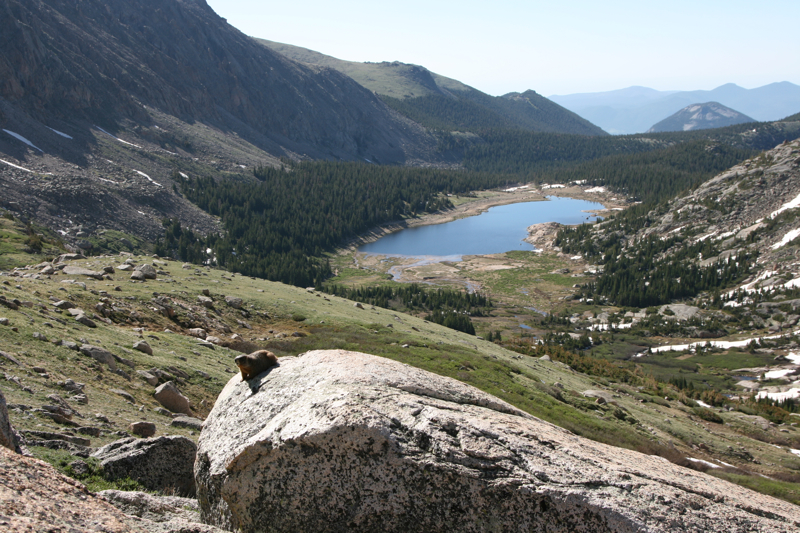 We didnít get a permit or do much real back country hiking in Yellowstone, but when we did go to anything other than the roadside stops we were completely alone. The park is crowded, and there are traffic jams everywhere. You are guaranteed to see bears and buffalo if you are there for more than 30 minutes or so, and the thermal features are fun to watch. You can see bears as close as about 20 meters, elk from a few feet, and buffalo close enough that I couldnít get one zoomed all of the way out with my 24-105.
At Grand Teton, just south of Yellowstone we were able to get a little farther from the crowds. Our hike there was from Jenny Lake up the Cascade Canyon trail to North Fork Cascade trail towards Lake Solitude. Donít get discouraged by the crowd too early. Most people only get to Inspiration Point, and then just about everyone else gives up at the fork between North and South fork. We did not make it to Lake Solitude because of the snow and my wife injured her foot which made the 9 miles back pretty rough. I wish I had brought a wider lens on this hike because the views down the hill on the North Fork trail were incredible. We also saw moose, marmots, pikas, and a least weasel. The 18 miles was a little rough for a day hike, but the camping at Jenny Lake was nice and is one of the few places in the area you can get in with out a reservation. Just make sure you are there early. The pictures are Jenny lake on the drive in, and a pair of moose we saw at the end of our hike. The baby is swimming.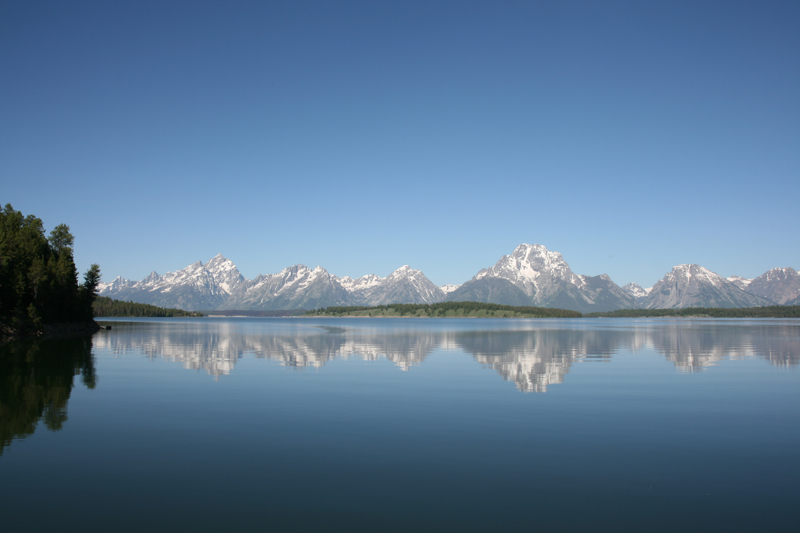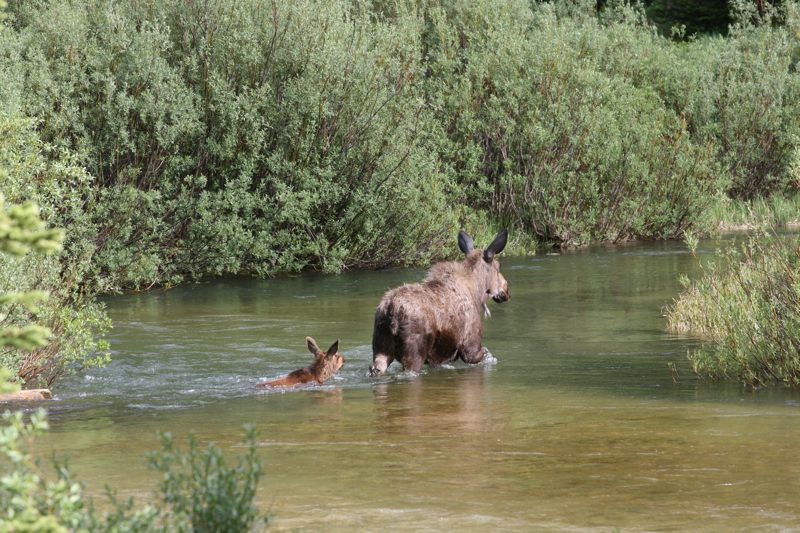 The inland portion of Olympic was a fun hike among big trees and moss. I can't remember the exact location, so if you would like advice on an Olympic hike I will have to check with my wife to figure out where that one was.
My favorite hike of the whole summer was two nights out along the coast of Olympic National Park. We hiked from Lapush down to Strawberry Point. When you hike along the beach you basically get to just walk along the coast and camp where you find a good spot. There were a few overland detours which added to the difficulty, but it was well worth it. The first camping area we saw had some disgusting people at it, but it was just a half mile or so from the parking area. Once we got a few miles in the beach was beautiful and quiet. There were always other people camping within sight of us, but there was enough room to maintain some distance as long as you walk out at least a few miles. Seeing the sun set from our tent on the beach was amazing. You can also build fires on the beach. I thought they were joking with us when I heard about it, but there are huge piles of drift wood everywhere, and it was easy to get a fire going. We saw a few bald eagles along the beach including a juvenile.
The one warning about hiking on the beach is IF YOU HAVE NEVER BEEN HERE BEFORE TALK TO THE RANGERS, BUY A MAP OF THE LOW WATER CROSSINGS AND HAVE SOMEONE SHOW YOU HOW TO USE THE MAP WITH A TIDE CHART. If you donít know what you are doing you could get caught between some rough tides and the cliffs. There are also some days where it is just not possible to get in or out from certain areas because of the tides, and if you donít plan carefully you could easily miss the tides and be stuck on the beach for an extra day. Hiking here is beautiful, but you must plan carefully.