When stacking frames to generate star trails do some people prefer to use Photoshop instead of the free software Star Trails? I can definitely see the attraction of Star Trails as it is free and designed specifically for this use, but perhaps some people find PS better and I wanted to get some input from the photographers here. One thing I found is that using PS Statistics, hot pixels do not show up even without dark frames. Here is an example of what I mean.
I was just testing my new timer remote and having problems so I didn't do things properly and forgot to take any dark frames. When I stacked just the light frames in Star Trails the hot pixels are very noticeable. Red and blue dots in the star field, some white dots/crosses in the chimney, etc. In fact, going back I can see the hot pixels in the original individual frames. Just FYI, 35 frames of 45-second exposures at 5-second intervals were shot.
Click image for fullsize:
To generate the star trails in Photoshop CS3, I used the Statistics function and chose maximum for the stacking method. There seems to be more grainy noise present, but the hot pixels seem to have been canceled out, even without the use of dark frames.
Again, click image for fullsize: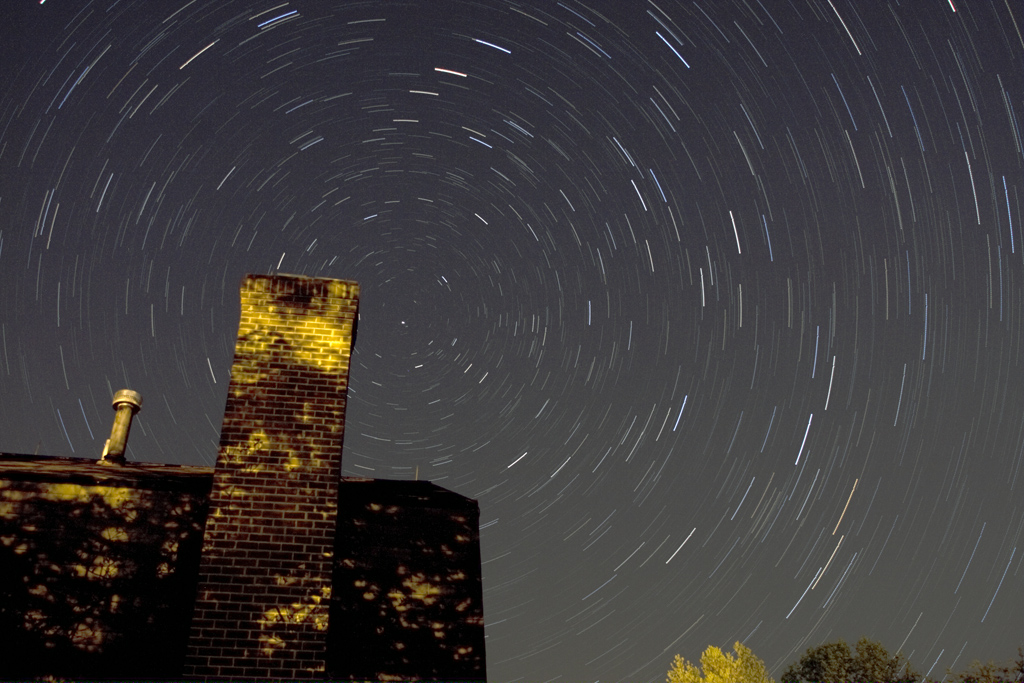 There are of course other issues with these images (too much of an interval between shots creating gaps in the outer trails, colors don't match between processes, etc.). But I just wanted to discuss the differences between these two software processes and see what people thought/do.
__________________
My Photo Sharing Threads
Cameras: Canon 40D, Canon 300SD, Nokia N95 (retired)
Lenses: Sigma 18-200mm DC OS, Canon EF 50mm f/1.8 II
Telescope: Meade LXD55 SN-6" F=762mm f/5, eyepieces: 26mm, 2x Barlow T-Mount
Software: Photoshop CS3, GIMP, DSS, Star Trails