Wilt wrote in post #17886502
The June 2015 comment on nikonrumors does not seem to supoort your above contention: "DSLR sales are falling down - we all know that, but
mirrorless cameras shipments appear to be generally flat since 2013
and mirrorless still represents only a fraction of the DSLR market." And here is the graph that accompanied that statement: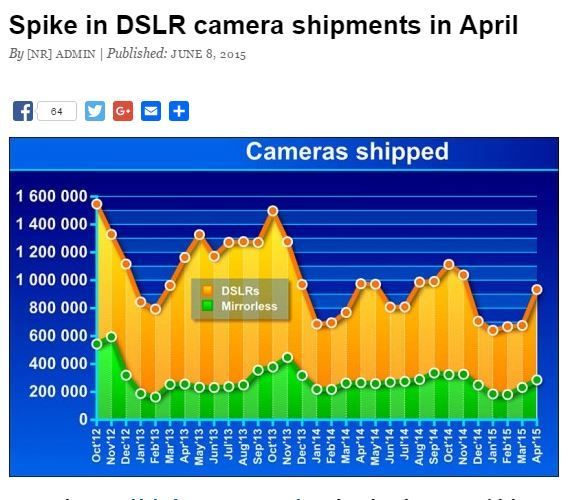 ...does not make EVFs look like a healthy growing market, in its position now vs. in 2013.
Sony's motivation to create a new segment (EVF) is simply that Nikon and Canon have too much of a command of the dSLR market. When you have a hard time winning market share, make your products appear 'different' and 'better' in the buying community. Marketing 101, and what they teach in every business school.
In the traditional SLR world, Nikon largely had a strong grip on share, and Canon took advantage of the EOS line with its electronic lenses to differentiate itself from Nikon. The rest is history, but in the case of electronic SLRs and lenses, they were a true substitute technology for the traditional mechanical lenses and bodies. Ih the case of EVF there are some significant obstacles to still overcome before the EVF is in everyone's hands...viewfinder lag is inherent to an electronic viewfinder.
Two different data sources (my data came from NPD group), so you'll have to dig deeper to find the difference in the methodology. However, ff you read the dpreview link I attached it references the CIPA data when it points to year over year growth of mirrorless sales and a decline in DSLR sales in North America. North America is probably a more relevant market to benchmark in contemplating long-term trends, as global markets have gotten hammered and demand for all products have declined in these areas for the past couple of years.

Sony very wisely targeted the 'blue ocean' of mirrorless cameras because it has not had much success in the 'red ocean' of DSLR cameras. Doesn't take business school to figure that one out.

The question from here is whether or not mirrorless cameras have the potential to disrupt the DSLR market. It's anyone's guess at this point, but Sony is saying yes, Nikon is saying no, and Canon is unsure and all three have placed their bets in the market. We'll see how it plays out, but my gut says that the obstacles to overcoming the advantages of DSLR's will be easily achieved as the processing power of the camera bodies increases overtime, and beyond that removing the mirrorbox will start to yield benefits that aren't possible with a DSLR. We're already there in certain aspects.

If mirrorless cameras do disrupt DSLR's, then the status quo of the DSLR market doesn't mean a whole lot. Worse yet, burying your head in the sand and refusing to innovate like Nikon is can be disastrous....not that Nikon is doing too hot anyway. For extreme cases of what this looks like, reference Blackberry, Blockbuster, etc etc